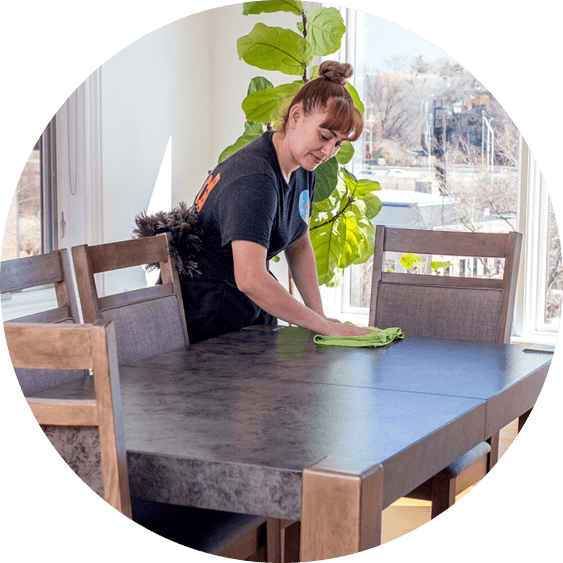 Home & Apartment Cleaning
All of this for one affordable fixed price for each cleaning. With 100% satisfaction guaranteed. Your mother and your accountant will be impressed.
Kitchen Cleaning Service
Load dishwasher and, clean kitchen sink, clean cabinet doors and drawers, clean microwave oven (inside and out), clean countertops, cooking surfaces, and appliance exteriors, wash and mop kitchen floors.
Bathroom Cleaning Service
Disinfect all bathroom fixtures, scrub tub walls and shower area, wash bathroom floors, clean all glass and mirrors.
Other Cleaning Services
Vacuum carpets, hard surface floors, stairs, and upholstered furniture, change bedding dust windowsills, ledges and wall hangings, pick up and straighten household and personal items polish furniture, remove cobwebs, empty trash bins
Special Cleaning Services
Spring or Fall cleanings, Move In/Moving Out Cleaning Services, Additional Cleaning Solutions, Clean inside ovens and refrigerators, Clean out cupboards, Polish cabinets, Office Cleaning.
Dependable Office Cleaning Service
When you're busy running a business, the time you spend cleaning your office takes time away from growing your company. That's why so many large and small businesses in Hoboken, Jersey City, Weehawken, Edgewater, West New York, North Bergen, and Guttenberg trust Maid in Hoboken to keep their offices clean, their employees happy and their customers impressed. We understand that you don't get a second chance to make a first impression with clients. A dirty bathroom, unswept floors, even smudged glass on the front door can mean the difference between keeping a customer and losing one. Think of Maid in Hoboken as your silent (cleaning) partner. We'll come before or after hours, when it's least interruptive, and provide professional, affordable janitorial services and office cleaning. Our thoroughly screened and trustworthy cleaning staff can perform a range of services, tailored to your needs. And our Hoboken cleaning service uses eco-friendly, certified-green cleaning products to ensure a healthy, environment for your staff and clients
Customized Cleaning for Companies
After analyzing multiple aspects of your facility and location and discussing your budget requirements and expectations, Maid in Hoboken will create a customized commercial cleaning program for your business. Whether you choose daily cleaning or once-a-week janitorial service, we're here to help.
Our professional services include:
Kitchen cleaning
Trash pickup and disposal in your receptacle
Floor mopping
Vacuuming
Sweeping
Washing interior windows and glass doors
Cleaning and dusting desktops
Bathroom maintenance
Commercial carpet cleaning, upon request
Happy, healthy employees are more productive
With Maid in Hoboken as your office cleaning service, your employees will enjoy working in a healthy, safe environment. Regular cleaning reduces allergens in the air that can cause asthma attacks. Green-certified products prevent allergic reactions toxic cleaning chemicals can cause. Maid in Hoboken also saves you the expense of full-time janitorial staff on your payroll. As an independent contractor with its own insurance, employees, payroll, and more, you only need to pay our flat fees, and you don't have to worry about workers' compensation insurance, retirement plans, and more.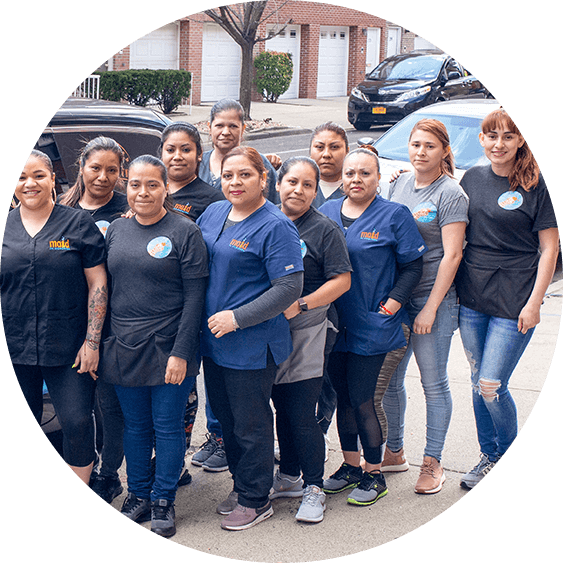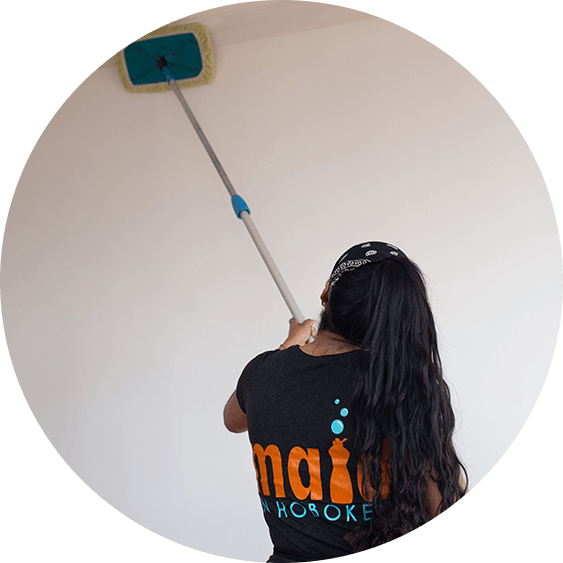 Reliable Post Construction Cleaning Service
Don't let your budget get out of control by hiring a cleaning company without experience in the post-construction cleaning. Construction Cleaning can be a challenge without having the proper knowledge, training & tools to get the job done right, at Maid in Hoboken we have that knowledge to keep your project on track.
How to Properly Perform a Post-Construction Cleaning
Post Construction is done best in 2 cleaning cycles, the initial cleaning where we clean up the larger items and leftover construction materials, and then after all the work has been completed 100% completed on your home or office we will perform the detail clean or final clean where we complete the fine cleaning details making home or office ready to be occupied.
Changing Your Furnace Air Filter Reduces the Dust
If you have a larger office building or just making small updated to your home, these steps help to ensure that the dust is help at a minimum, with replacing your furnace files just before the detail clean.
Tailored Cleaning for Your Airbnb Rental
If you Airbnb your home, Maid in Hoboken has tailored a cleaning service just for you! Let us be your eyes and ears when you can't be there.
How it works:
You provide us with 2 sets of linens and towels and we will take care of the housekeeping.
Maid in Hoboken will sweep, vacuum and mop all the floors.
We will change out the linens and towels, bring the dirty set to our shop, launder them and return them clean on the next visit.
Maid in Hoboken will clean the bathroom and kitchen as well including the dishes.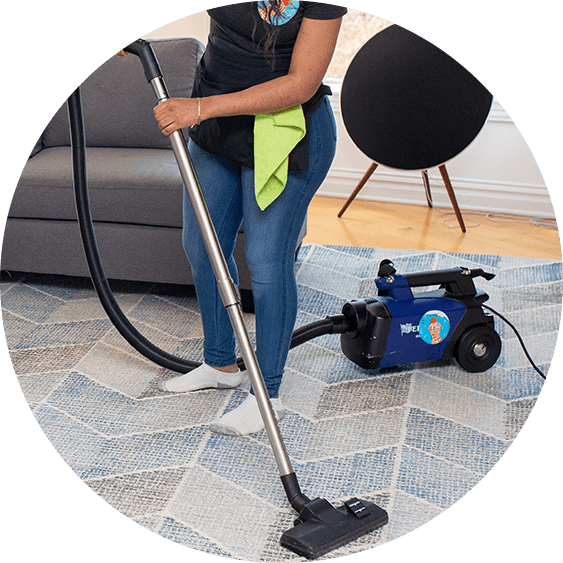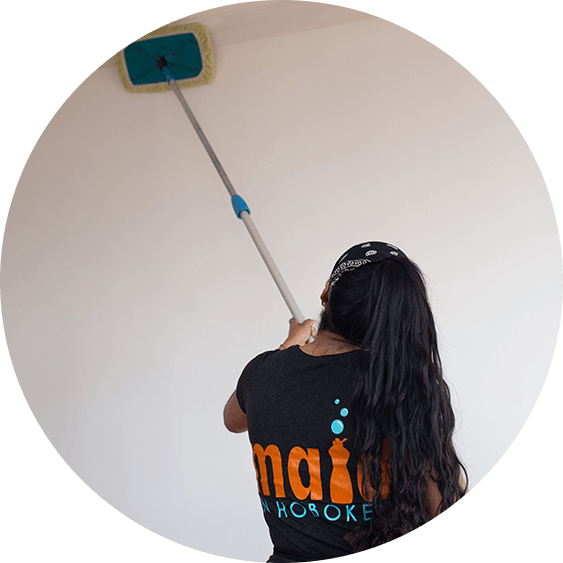 Move In/ Move Out Cleaning Services
Welcome to The Neighborhood!
Most leases and real estate contracts merely require the occupants to leave the premises in "broom clean" condition. Who wants to move into that?
As our way to welcome you to the neighborhood Maid in Hoboken will credit you back 25% of the move in rate when you sign on for recurring service.
That's right, sign on for recurring service and on your 4th cleaning, we will issue that credit.
For our move in service Maid in Hoboken will clean every nook and cranny so you will have a clean home to move into.
This service will include cleaning the inside all of the appliances, cabinets/vanities, and standard size windows.
Thank you and good luck with your move!
Move Out Cleaning Service
If you are selling, Maid in Hoboken can help you show your home flawlessly. From house cleaning to around-the-house repairs, Maid in Hoboken is on-call for realtors and individuals preparing to sell their homes. The difference is in the details, and what a difference it is! Show potential home buyers your property's true potential with updated faucets, spotless floors, a new coat of paint, new tile grout or caulking–whatever it takes, we're here to help.
Move In Cleaning Service
If you are a home buyer or renter, you want your new home to be in perfect move-in condition. Maid in Hoboken provides an array of services that will meet any expectation. To keep your new place looking move-in clean, Maid in Hoboken offers deep cleanings, weekly cleaning, bi-weekly, whatever your needs are, Maid in Hoboken can deliver. Our move in cleaning services consists of everything in a first time cleaning, plus deep cleaning of the baseboards, oven, stove, refrigerator, ceiling fans, and cabinets and drawers. We also provide all the necessary cleaning supplies so you have one less thing to deal with. Move In / Move Out Cleaning can be done on your house, as well as office, condo or apartment.
Here are our services:
Living Areas & Bedrooms
Carpets vacuumed and edged, Clean windowsills and tracks, Baseboards dusted and wiped down, Wash and dry hard floor surfaces, Stairs vacuumed, Clean closet shelves and drawers, Dust furniture and knick-knacks (if applicable), Clean all ceiling fans and light fixtures, Remove cobwebs, General dusting
Bathroom Cleaning
Tiles, walls and bathtubs cleaned and disinfected, Shower and shower doors cleaned and disinfected, Clean medicine cabinet, Clean windowsills, and tracks, Baseboards dusted and wiped down, Mirrors cleaned and shined, Sink and counters cleaned and disinfected, Floors washed and disinfected, Clean and disinfect toilets, Shine and clean chrome fixtures, Wipe down outside and inside cabinets and drawers, Cobwebs removed, General dusting
Kitchen Cleaning
Scrub sink, Clean windowsills and tracks, Baseboards dusted and wiped down, Clean small countertop appliances, Clean refrigerator exterior, Clean refrigerator interior, Outside of range hood cleaned, Top and front of stove cleaned, Clean oven interior and exterior, Sinks cleaned and disinfected, chrome shined, Countertops and backsplash cleaned and disinfected, Clean outside and inside cabinets and drawers, Clean exterior of large appliances, Wipe down inside and outside of microwave, Clean and disinfect dishwasher, Floors mopped, Discard any trash, Remove cobwebs, Thorough dusting.